The American Rescue Plan Act (ARPA) was signed into law in March of 2021, but what do you know about it? You probably are familiar with the high demand conversations and news articles surrounding the COVID-19 stimulus checks, and maybe you've been hearing some talks about "ARPA" within the past year. Did you know this money from the federal government is all under the same package? Let's talk about it.
1.The American Rescue Plan Act (ARPA) primarily is to help our economy recover from the aftermath of the COVID-19 pandemic. The Coronavirus State Fiscal Recovery Fund was established to allocate and distribute the federal dollars locally. In other words, this helped to get the money into our communities.
2.Let's break down some numbers. A total of $350 billion was allocated for state and local governments. $8.12 billion was allocated to the State of Illinois. All 102 counties in Illinois received a portion. The dollars are mainly based on population. Kankakee County received $21.3 million. Cities and towns within Kankakee County also received ARPA funds separately. 
Here is a list of allocations for each city and town in Kankakee County.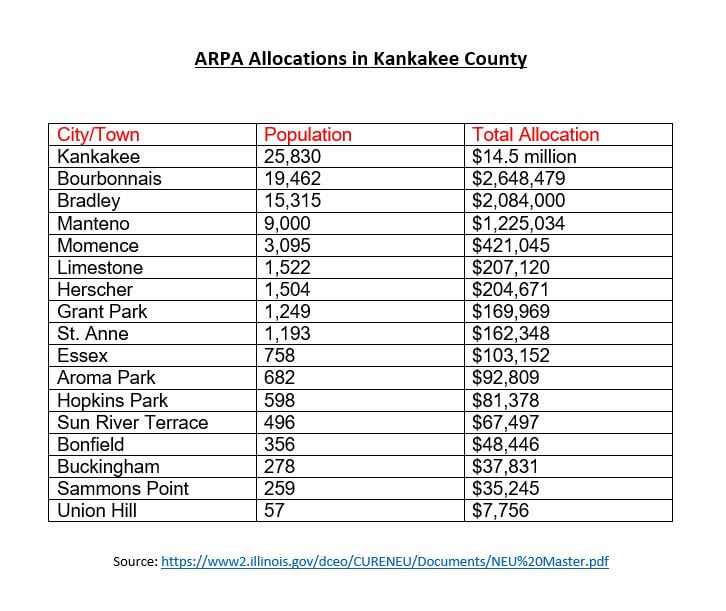 3. Although local governments can decide how to best allocate the ARPA funds, there are federal rules which must be followed which is common for all grant funding. The U.S. Treasury released guidelines under the Interim Final Rule on how the money can be spent. Kankakee County launched the Kankakee County Respond, Revitalize, and Reinvest (KCR3) initiative as a targeted deployment plan for the ARPA funds.

Here is a look at some of the eligible uses for ARPA funds:  
To address negative economic impacts due to the pandemic

To support public health expenditures 

To invest in critical infrastructure

To replace lost revenue
4. Kankakee County is already approving ARPA funding requests for those who applied and were able to demonstrate a negative economic impact. This includes local business owners, nonprofit organizations, and non-covered governmental units such as park districts and fire protection districts. As a part of Kankakee County's KCR3 video series, one local business owner in Grant Park describes how Kankakee County ARPA funds helped her bounce back.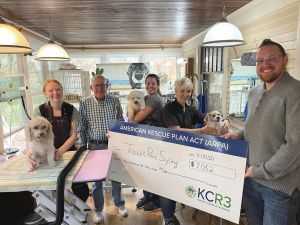 5. While plenty is in store, Kankakee County's 2021 ARPA report highlights some of the local allocations for the past year. Part of the allocations also include essential government services and long-term investments in critical infrastructure such as the Kankakee County Courthouse. 
The ARPA funds is a new and unique opportunity for our communities to bounce back, invest in new projects, and continue to work together. New partnerships will be formed. New projects will be underway. New programs will be developed. Now that you know more about the American Rescue Plan Act (ARPA), what would you like to see be done? Email your input to administration@k3county.net. 
For more information surrounding Kankakee County ARPA funds, and how to apply, visit www.k3county.net.