Just about 60 years ago, Romy Hammes, a Ford auto dealer, real estate developer and philanthropist saw a need for greater local decision making and decided to do something about it. The doors of Peoples Bank opened in May 1962 and have stayed open to the Kankakee community ever since.
Romy was selling Fords in Wisconsin, winning the 1926 Salesman of the Year Award for the Northern Region. After receiving the award, Romy was granted a watch from Edsel Bryant Ford. Edsel pulled Romy aside and asked if there was anything else he could do for him. Romy asked for his own dealership. Six months later, Edsel gave Romy two options – to work in Atoma, Iowa or Kankakee, Illinois. Although the towns were similar in nature, there was one thing that Kankakee had over Atoma – paved roads. Romy knew that paved roads would make reaching customers a lot easier, so he set off for Kankakee, Illinois.
Right from the start, Romy became very involved in the community, including serving as the President of the Chamber of Commerce from 1938-1940. Because he was so actively involved in the community, he saw a need for more community banking services. This brought about the bank we all know and love today – Peoples Bank. The bank was originally named Merchants and Manufacturers State Bank, but Romy changed the name to Peoples Bank to better encompass what the bank stands for – delivering an exceptional customer experience.
The bank has been in the family for all sixty years and is now on the third generation of Hammes'. Jeff Hammes is the current President and CEO and his father, Jerry Hammes is the Board Chair.
Jeff did not know what he wanted to do after college, so he asked his dad if he could spend a year at Peoples Bank and gain some customer experience. After a year at the bank, he realized that this is where he wanted to stay. Jeff also has served as the Chamber Board of Directors President for three years (2015-2018).
"Jeff became the Chairperson for the Kankakee County Chamber of Commerce at a time when the organization was making changes in operations and membership; specifically, the benefits given for the investment received. It was important to him that businesses of all levels experienced tangible benefits from their participation and support of the County Chamber. From his leadership position, he encouraged the organization to expand its networking opportunities while advocating for all levels of technical support that businesses need to thrive in Kankakee County.
Peoples Bank has been one of the biggest supporters of the County Chamber and that is because of Jeff's belief in the power the Chamber has to impact the region for the better. He always said that you never know who your next employee or customer could be and that's why networking through the Chamber was valuable.  I cannot say enough about his generous spirit and his love for Kankakee County."
-      Barbi Watson, former Kankakee Chamber of Commerce President
Mark Kaner, AVP/Commercial Loan Officer serves on the Chamber Board, Executive Committee, and Member Committee. Mark joined the Chamber after Jeff's term was up so Peoples Bank could continue to be involved with the Chamber.
"Our hire practices are what gives us an edge over other banks in the area. We hire local home-grown people with deep roots in the community who understand the needs of the community," says Mark.
Peoples Bank prides itself on being high touch. When customers walk in it is the company's goal to get to know them.
"You will get personal service. We don't have a 1-800 number that you call. You come in and talk to people. It will probably be someone who you are only one degree from knowing personally," says Jeff.
Peoples Bank continues to grow its roots deeper within the community throughout the decades. Its commitment to serve and give back to the community remains evident today. Outside of work employees are investing in and strengthening their relationships with others in the community.
We are thankful to have a local bank in the community that is dedicated to serving the Kankakee County community and the employees who serve our Chamber.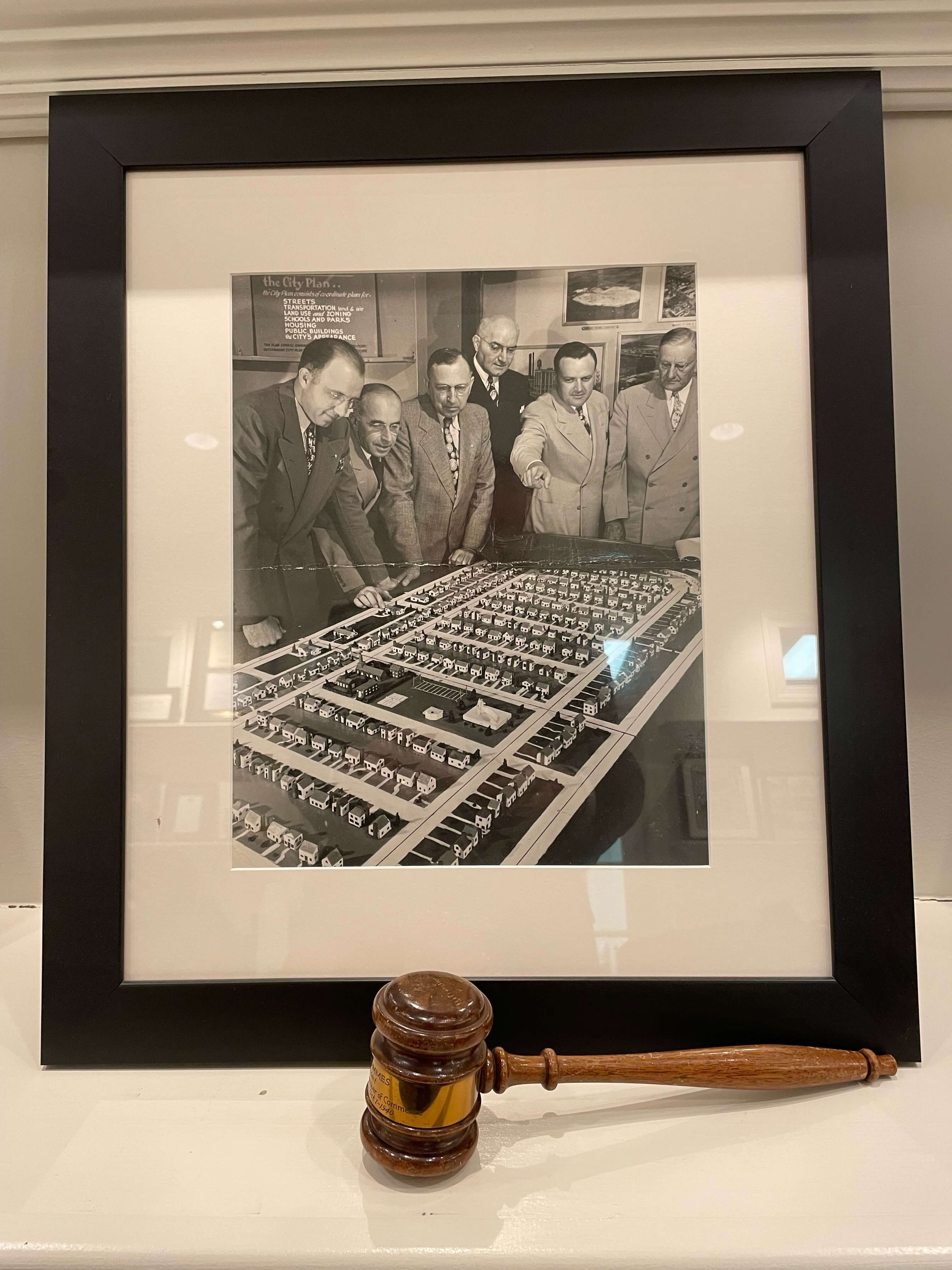 (Below picture):  The original "Chairman's Gavel" presented by the Chamber to Romy Hammes in recognitions of his 1938 - 1940 chairmanship on display in the bank's offices in Kankakee.  Pictured behind the gavel is a photo from 1946 Life Magazine article.