Ascension Saint Mary is a hospital located here in Kankakee County, formerly known as AMITA Health St. Marys Hospital. Ascension Saint Mary, is an investor in the Kankakee County Chamber of Commerce, and we wanted to use this platform to spotlight our robust orthopedic program.
Ascension Saint Mary continues to invest in their orthopedic program, most recently, to the advancements in their surgical robotic program. ROSA Zimmer Biomet is used as a robotic surgical assistant that aids in knee replacement surgeries, providing more precision and it lessens the chance of injury to surrounding tissues. ROSA was designed by surgeons for surgeons to use for more accuracy and efficiency, while providing data to enhance patient recovery times.
While Ascension Saint Mary is using ROSA for accuracy and precision, they also have brought in a new technology for knee replacements called Persona IQ. Persona IQ is also known as "The Smart Knee." This technology provides surgeons with products that reproduce your knee, using its natural form and function. Persona IQ is a system that was developed for total knee
replacements, using anatomically correct elements, which personalize the fit of this technology  to a patient's correct knee formation. Persona IQ doesn't stop at the precise and custom fit for a patient's knee, this is also a smart device. After surgery, Persona IQ provides surgeons with motion data, knee range of motion data, stride length, and patient step count. This information is shared through a wireless docking station, allowing surgeons remote access to a patient's Persona IQ data.
As part of the commitment to the community, Ascension Saint Mary is continuing to invest in their orthopedic program including a recent upgrade to their Brainlab equipment and 3D OEC C- Arm System, resulting in being able to service advanced spinal cases with Dr. Mosenthal from Oak Orthopedics. Brainlab uses artificial intelligence and data to plan surgical procedures and heighten spine procedures. According to Brainlab's Digital Spine Surgery informational video on
their website; using artificial intelligence, Brainlab provides statistical information, automated planning, inherent co-registration, robotic trajectory alignment, alignment verification, robotic image alignment, and a control scan.
The board certified, fellowship trained orthopedic surgeons at Ascension Saint Mary can provide surgical care and inpatient consultation for a wide variety of orthopedic conditions including ankle, elbow, foot, hand and wrist, hip and knee, shoulder, spine, pain conditions, as well as total joint replacement and revisions.
Our Orthopedic Program is certified by The Joint Commission for Total Knee and Total Hip replacement meeting the requirements focused on orthopedic standards, clinical performance and quality outcomes. The program has also received the Blue Distinction Award from Blue
Top Photo: This is a photo of the Ascension Saint Mary team training on the new ROSA equipment.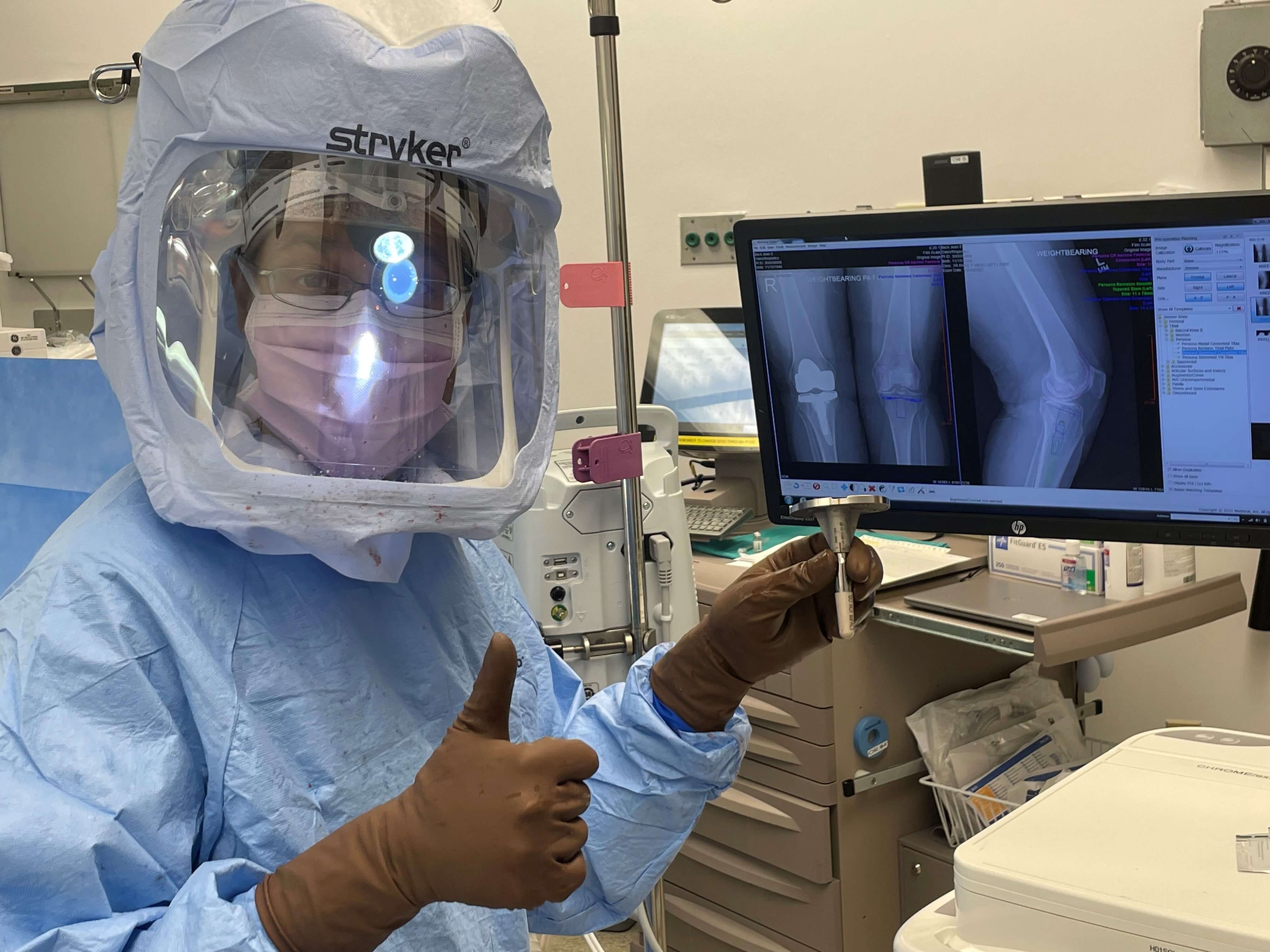 Bottom Photo: This is a photo of Dr. Puri holding a Persona IQ implant.