Application period now open for $45,000 in grant funding for diverse holiday cultural celebrations.
CHICAGO (July 19, 2023) – Communities may be more focused on outdoor festivals, fireworks and barbecues this summer, but it's never too early to plan for the winter holiday season. For the third year, ComEd and the Metropolitan Mayors Caucus are encouraging communities and community organizations to apply for competitive grants of up to $2,500 each as part of the ComEd Powering the Holidays Program. The program supports community holiday lights events that represent the diverse cultures and traditions celebrated across northern Illinois.
ComEd and the Metropolitan Mayors Caucus are making $45,000 in funds available for the
2023 grant program to power a variety of holiday lights celebrations this year. The
application period is open now until 11:59 p.m. CDT on September 1, 2023. To learn more or apply, visit ComEd Powering the Holidays Program.
"ComEd is proud to partner with the Metropolitan Mayors Caucus to deliver another year of community funding to brighten our cities and towns for the holidays this season," said Louie Binswanger, senior vice president of government, regulatory and external affairs at ComEd. "We are excited to see the variety of holiday events and impressive lighting events that this grant funding will enable, supporting the diverse cultures and traditions that make northern Illinois so unique."
Municipalities, townships, counties and local government units in ComEd's service territory
are eligible to apply. Not-for-profit organizations and cultural institutions may also be eligible if they partner with at least one municipality or government institution. Recipients must match 20 percent of the grant and use funds for any holiday event held between Nov. 1, 2023 and Feb. 13, 2024. The Metropolitan Mayors Caucus will review applications and administer grant awards for qualifying applicants.
"The ComEd Powering the Holidays Program benefits Illinois communities as they expand
existing holiday events and create new traditions to help foster community cohesion andrepresentation," said Neil James, executive director of the Metropolitan Mayors Caucus. "We are honored to work with ComEd on this exciting grant project."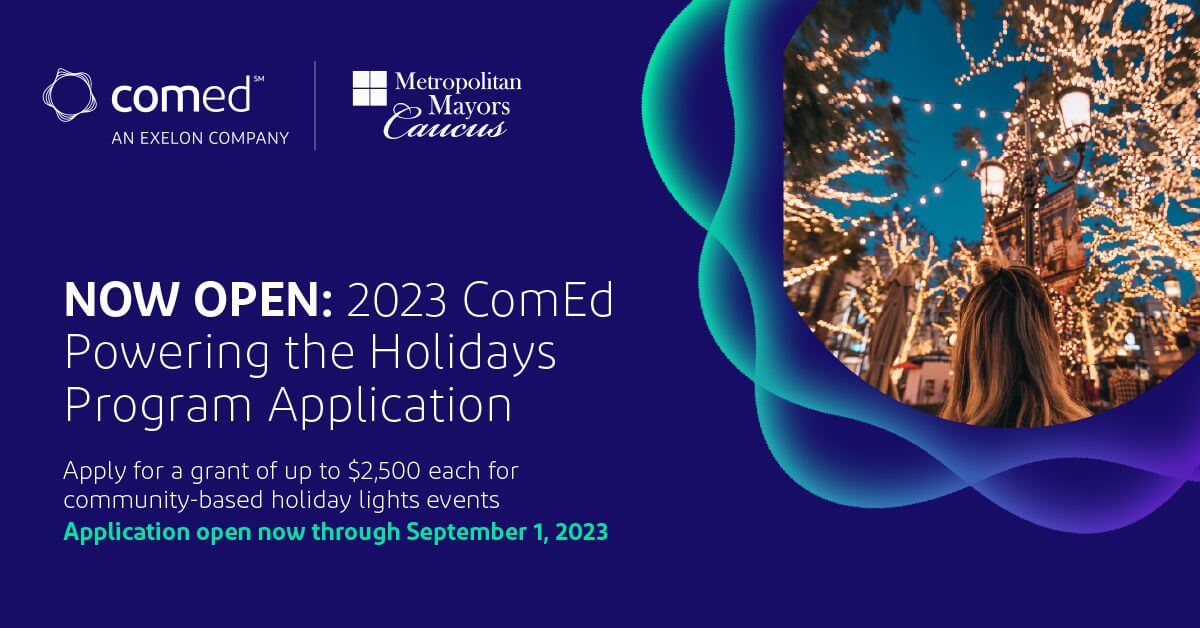 Since its inception, the ComEd Powering the Holidays Program has awarded 28 communities and organizations a total of $68,000 in grants to power holiday lights events over the last two years. These holiday lights events have featured a diverse display of sound, food and light festivities honoring cultures and traditions from around the world in cities and villages in northern Illinois.
During the 2022 holiday season, 18 communities throughout northern Illinois utilized these grants to support holiday lights events.
The City of Belvidere hosted their Hometown Christmas Celebration, this annual event invites residents of all ages to come together for a night of holiday festivities including carriage rides, light parades, puppet shows, cookie decorating and more.
"For years, the City of Belvidere's Hometown Christmas has been a wonderful community
event enjoyed by thousands of citizens and visitors each holiday season. The success
Belvidere has enjoyed is due in part to the generosity of ComEd's Powering the Holiday's Grant, helping us with this joyful event," said Clinton Morris, Mayor of Belvidere.
"As Mayor on behalf our entire City, I certainly appreciate ComEd's gracious contribution, sponsorship and partnership towards helping make this truly a wonderful event here in Belvidere."
The Village of Bolingbrook hosted a month-long Winter Walk, consisting of a quarter-mile walking path of holiday lights and decorations available to visitors.
"The Powering the Holidays grant made it possible for Bolingbrook to take our Winter Walk to a higher level," said Lucas Rickelman, Village Administrator of Bolingbrook.
"Thanks to ComEd, the additional displays will be enjoyed by our community for many years to come!"
In 2022, Highland Park hosted their Heart of the Holidays event, a multi-weekend
celebration of diversity where visitors could enjoy music, dance performances and more
against a backdrop of holiday light displays.
"In the afternoon of a challenging and tragic year in 2022, ComEd's Powering the Holiday
grant enabled the City to illuminate our downtown district and create new holiday traditions for the public," said Ghida Neukirch, City Manager of Highland Park.
"We're grateful for their support and partnership."
The City of South Chicago Heights hosted their Holiday Season Cheer event. This annual event invites community members to celebrate the holiday season with light displays, carols and the lighting of the South Chicago Heights Christmas tree.
"Thanks to ComEd's Powering the Holidays grant, the Village of South Chicago Heights
made our public safety building look festive and inviting during the 2022 holiday season and will continue to for subsequent holidays in the future," said Terry L. Matthews, Mayor of South Chicago Heights.
"The grant also allowed us to expand our annual tree lighting ceremony for our residents making it an enjoyable, family friendly occasion. We appreciate the generosity extended to our village by ComEd."
The ComEd Powering the Holidays Program is an extension of ComEd's long-time
sponsorship of, and support for, holiday light events at Lincoln Park Zoo, Brookfield Zoo,
The Morton Arboretum and Chicago Botanic Garden.
To learn more and view the application and guidelines visit ComEd Powering the Holidays
Program.